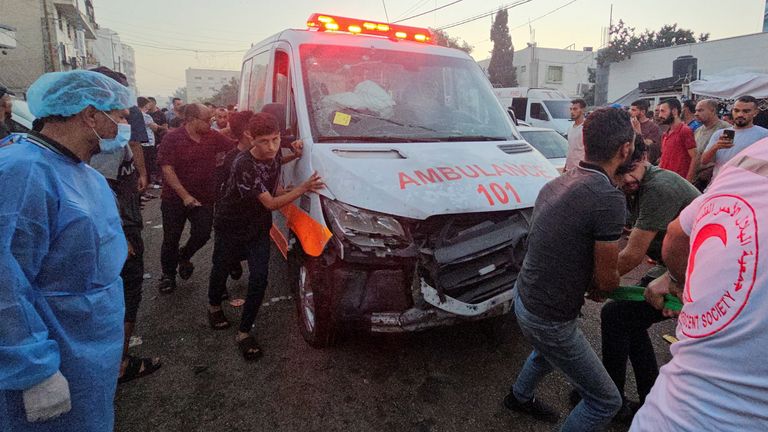 At least 15 people were killed and 60 were wounded in an Israeli airstrike on an ambulance convoy near a hospital in Gaza, the Palestinian territory's health ministry has said.
The health ministry added that the ambulances were carrying injured people to be transferred to Egypt for treatment.
The Israel Defence Forces (IDF) has said a "number of Hamas terrorist operatives were killed in the strike".
Footage seen by Sky News shows injured and dead people outside the Shifa hospital in northern Gaza.
The video also shows a damaged ambulance outside the hospital, which is the largest medical facility in the territory.
Follow latest: Netanyahu tells Hezbollah 'don't test us'
Ashraf al Qidra, a Gaza health ministry spokesperson, said the convoy was targeted both at the hospital gate and at Ansar Square just over half a mile away.
The Hamas-led health ministry has said: "We had notified the Red Cross, the Arab Republic of Egypt, and the entire world through communication channels and the media of the movement of ambulances carrying the injured transferred to Egypt, but the occupation committed its crime in all brazenness."
The International Committee of the Red Cross has confirmed it received a request from Gaza's health ministry to accompany the convoy.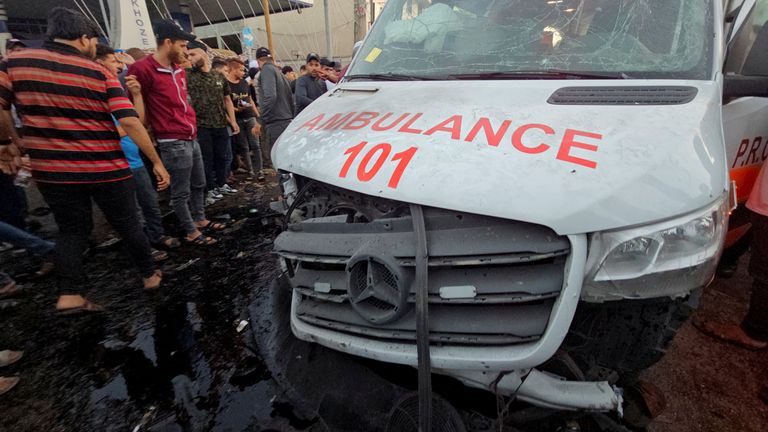 The IDF later said in a statement: "An IDF aircraft struck an ambulance that was identified by forces as being used by a Hamas terrorist cell in close proximity to their position in the battle zone.
"A number of Hamas terrorist operatives were killed in the strike. We intend to release additional information… We have information which demonstrates that Hamas's method of operation is to transfer terror operatives and weapons in ambulances.
"We emphasise that this area is a battle zone. Civilians in the area are repeatedly called upon to evacuate southwards for their own safety."
Read more on this story:
PM brands pro-Palestinian protest on Armistice Day as 'disrespectful'
Hezbollah leader warns of possible escalation
Which countries are calling for a ceasefire?
Sky News spoke to a doctor at the Shifa hospital who says up to 50 casualties had been brought into the site after the strike.
The IDF earlier justified attacks on buildings such as hospitals, schools and mosques in Gaza by claiming Hamas uses the sites for operational purposes.
IDF posted a video on X, formerly known as Twitter, on 27 October which asked: "Where are Hamas's headquarters? Are they under a school? A university? A mosque? A hospital?"
It then claims the answer is "all of the above".
Panic after shelter damaged in Gaza

On Thursday, 20 people were reported to have died after the UN said a school being used as a shelter had been damaged at the Jabalia refugee camp in Gaza.
Another five people were understood to have been injured at the camp.
Sky News verified footage showing many people injured at the school but has been unable to identify the cause.