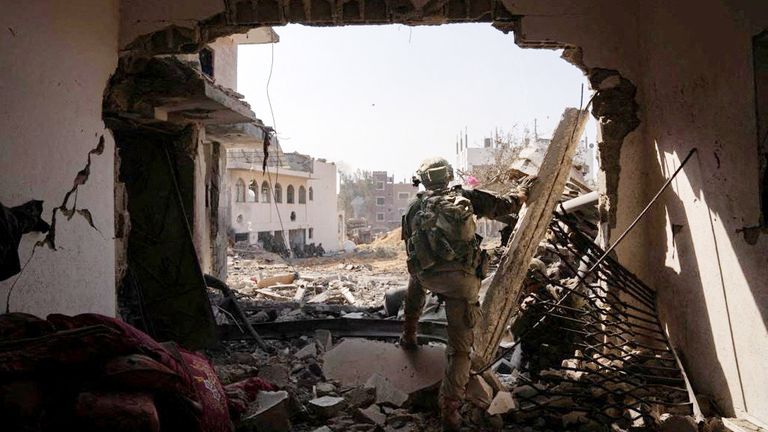 Benjamin Netanyahu says Israel will have "overall security responsibility" in Gaza for an "indefinite period" after its war with Hamas.
The Israeli prime minister's comments are the clearest indication of his country's plans to maintain control over the Gaza Strip, which is home to 2.3 million Palestinians.
Mr Netanyahu told ABC News that Israel should have security responsibility in Gaza "for an indefinite period" because "we've seen what happens when we don't have it," referring to an "eruption of Hamas terror on a scale that we couldn't imagine".
He said Gaza should be governed by "those who don't want to continue the way of Hamas".
Follow latest: IDF secures 'Hamas military stronghold'
"I think Israel will, for an indefinite period… have the overall security responsibility because we've seen what happens when we don't have it," Mr Netanyahu said.
"When we don't have that security responsibility, what we have is the eruption of Hamas terror on a scale that we couldn't imagine."
Israeli's military says it has split Gaza in two and encircled Gaza City after more than a week battling Hamas militants inside the territory.
Israeli media reported on Monday that troops are expected to enter the city within 48 hours.
It comes as the second in command of Lebanon's Hezbollah hinted that the group could be dragged into a more intense conflict with Israel if it does not halt its attack on Gaza.
Speaking to NBC News, Naim Qassem said Hezbollah "is in the position of resistance and reaction" as he questioned global support for Israel's military action.
"The one who expands the aggression is Israel and who expands the aggression is America and Europe that supports the Israeli actions," he said.
"And what expands the aggression is the killing of civilians and children.
"It's not possible to watch these difficult, painful and dangerous scenes and not get involved because what they do in Palestine they will do later in Lebanon and the region."
IDF release footage of ground offensive

Meanwhile, the Lebanese foreign minister told Sky News that discussions with Hezbollah and its Iranian funders have left him "less pessimistic" about the outbreak of a wider war in the Middle East.
"No one wants war," Abdallah Bou Habib said from his office in the Lebanese capital Beirut.
"I don't think they'll be a war soon in Lebanon – and I think you know even the Iranians and Hezbollah are not assuring us, but saying this in an indirect way.
"When the Iranian foreign minister asks about what's happening to a ceasefire, that means they don't want war."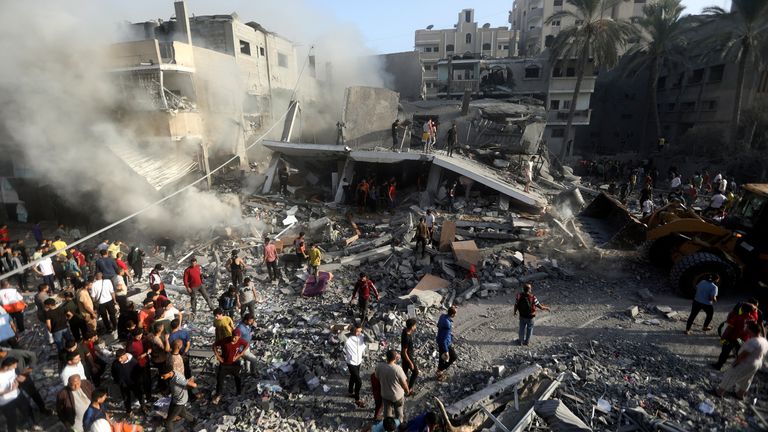 More than 10,000 Palestinians have been killed in the conflict so far, including more than 4,100 children and minors, according to Gaza's health ministry.
Officials in Israel have said 1,400 people have been killed in the country since 7 October, when Hamas launched its surprise attacks.
Read more:
Satellite imagery reveals how Israel has cut Gaza in two
Family of girl feared dead given hope she may be hostage
Analysis: Blinken had three tasks in hand – none went well
On Monday, Mr Netanyahu expressed willingness for "little pauses" in the fighting to facilitate the release of 239 hostages that are believed are still held by Hamas.
But the Israeli PM ruled out any general ceasefire without the release of all those held captive.
Click to subscribe to the Sky News Daily wherever you get your podcasts
US President Joe Biden maintains that a general ceasefire would not be an appropriate step – a stance backed up by Rishi Sunak.
On Monday, White House spokesperson John Kirby said the US and Israeli governments would continue to be in touch regarding potential pauses for humanitarian reasons and possible hostage releases.