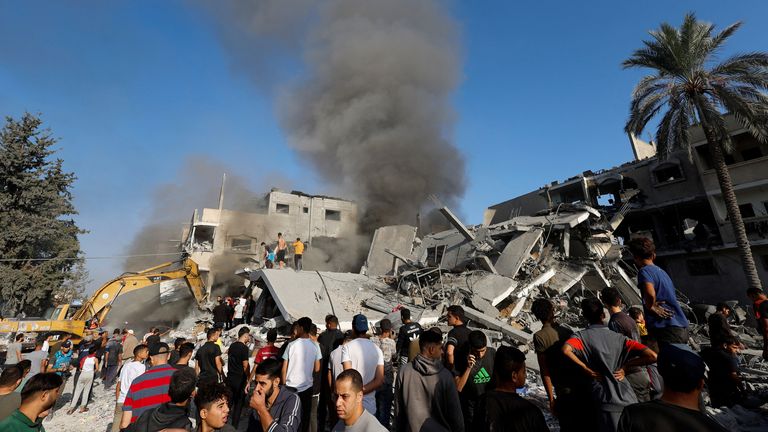 Palestinian Prime Minister Mohammad Shtayyeh broke down in tears during a cabinet meeting as he recounted the story of a mother whose children were buried under the rubble in Gaza.
Mr Shtayyeh struggled to speak during the Palestinian Authority's meeting yesterday as he described how children write their names on their own bodies so their corpses can be identified.
The prime minister cried as he said: "The mother of the three children who were buried under the rubble tells her children: 'Let me see you, even in a dream.'"
Follow live: Netanyahu hints at 'indefinite control' over Gaza – war latest
The 65-year-old appeared to be overcome with emotion, taking a lengthy pause to compose himself before adding: "Mercy be upon the souls of the martyrs and shame on the criminals."
The conflict between Israel and Hamas is now in its fifth week after Hamas militants launched a surprise attack on Israel on 7 October.
Gaza's Hamas-run health ministry says more than 10,000 people have been killed since 7 October, two-thirds of them women and children.
Israel's mass air strikes and ground operations in Gaza come after more than 1,400 people were killed by Hamas in the initial attack.
Mr Shtayyeh also claimed that Israel's heritage minister, Amihai Eliyahu, who was suspended for saying dropping a nuclear bomb on Gaza was "one of the possibilities", was "not satisfied with 10,000 martyrs".
"He wanted to see Hiroshima in Gaza," the Palestinian PM added. "He wanted to see genocide accomplished with the nuclear bomb Israel possesses."
Israel's prime minister Benjamin Netanyahu said the statement by Eliyahu, of the right-wing Otzma Yehudit party, was "not based in reality".
Israel releases footage of ground offensive in Gaza

Ground operations inside the Gaza Strip are ongoing, with troops from the Israel Defence Forces (IDF) on the ground inside the enclave.
Operations on the ground and from the air have been intensifying in recent days, with the IDF claiming to have killed a number of key Hamas commanders.
The Israeli prime minister has given the most direct indication yet his country plans to maintain control over Gaza after its war with Hamas, saying his country will have "overall security responsibility" in Gaza "for an indefinite period".