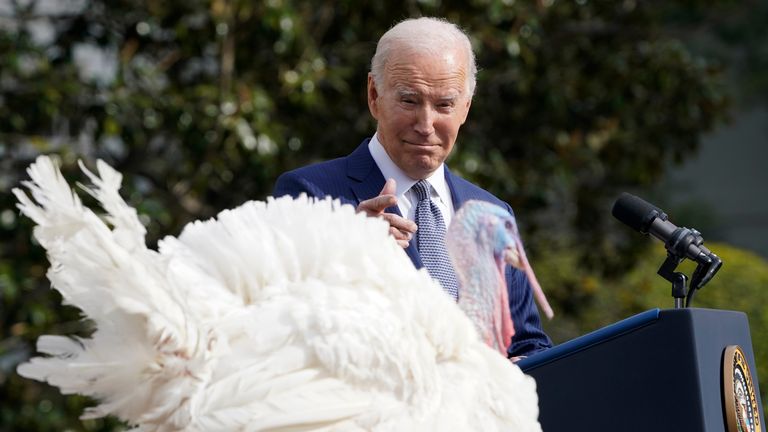 Joe Biden got Britney Spears muddled up with Taylor Swift in his latest gaffe in front of reporters.
The US president, who turned 81 today, was in the middle of pardoning two turkeys – Liberty and Bell – in the White House's annual ceremony before the Thanksgiving holiday when he used the name Britney in an apparent reference to Taylor Swift's current overseas tour.
Mr Biden said: "Just to get here, Liberty and Bell had to beat some tough odds and competition. They had to work hard, to show patience, and be willing to travel over 1,000 miles.
"You could say it's even harder than getting a ticket to the Renaissance tour or, or Britney's tour. She's down, it's kind of warm in Brazil right now."
Spears is not currently on tour, nor is Beyonce who finished her Renaissance tour in October. However, Swift is in the middle of a string of international dates, and she postponed her concert in Rio on Saturday due to extreme heat.
A day earlier, a 23-year-old fan had died at the singer's first Eras Tour show in the Brazilian city.
Swift said in a post on Instagram she was devastated by the death – the cause has not been confirmed.
Saturday's concert was rescheduled for Monday.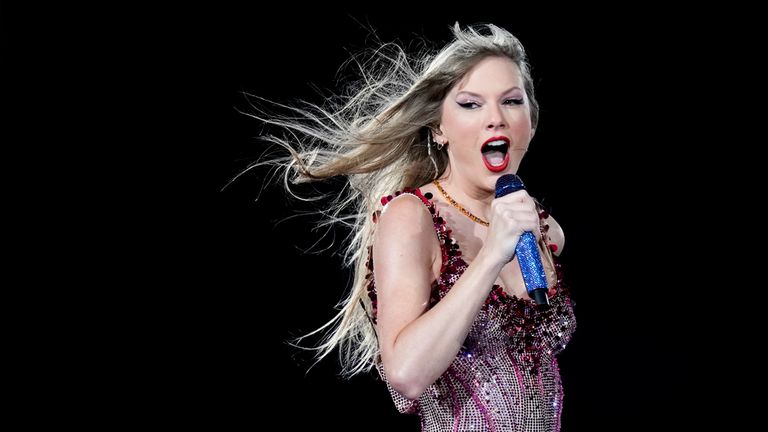 Taylor Swift fans queue in 'extreme temperatures'

Also speaking at the same White House ceremony, Mr Biden joked about his age, saying: "As much of you know, it's difficult turning 60.
"This is the 76th anniversary of this event. I want you to know I wasn't there, and I was too young to make it up."
The White House did not immediately respond to request for a comment by Sky News' partner network NBC News on Mr Biden's apparent mix-up, which comes as voters express concerns in polling about his age.
Biden's gaffes
In June, the president made a comment about Russian leader Vladimir Putin's "war in Iraq", which led to him being mocked online.
Mr Biden said at the time there were clear signs Mr Putin was losing his grip on power amid the conflict in Ukraine.
He told reporters: "It's hard to tell, but [Putin is] clearly losing the war in Iraq, and he's losing the war at home."
Biden mistakes Ukraine for Iraq

In September, Mr Biden mistakenly praised the "Congressional Black Caucus" while addressing the Congressional Hispanic Caucus at the group's annual gala in Washington DC.
He made the error while noting the group shares qualities with gala award recipient Sister Norma Pimental, executive director of Catholic Charities of the Rio Grande Valley.
"I know Sister Norma lives the lessons nuns taught me growing up. Lessons based on the Gospel of Matthew: feed the hungry, care for the sick, welcome strangers," he said.
"They echo what my dad taught me, and I mean this sincerely, my dad used to say, 'Everyone, everyone is entitled to be treated with dignity and respect.' The Congressional Black Caucus embodies all those values."
And in April, during a visit to Ireland, the US president praised former Irish rugby international Rob Kearney who he said was "a hell of a rugby player, and beat the Black and Tans".
By doing so, Mr Biden confused New Zealand's famous team, the All Blacks, with the reviled British paramilitary force the Black and Tans, who brutally repressed opponents of British rule during the Irish War of Independence.
Biden makes 'Black and Tans' gaffe

Most infamously, the force massacred 14 people and wounded 60 more at a Gaelic football match at Croke Park in Dublin in 1920.
Read more:
Behind Biden and Xi's warm gestures, bigger problems are unsolved
Trump ahead of Biden in five key swing states, poll suggests
Biden's dog removed from White House after biting secret agents
Ahead of the 2024 election, Democrat Mr Biden is currently trailing former Republican president Donald Trump, 77, among young voters ages 18 to 34, with 46% of them supporting Mr Trump and 42% Mr Biden, according to NBC News' latest poll.
The disparity is significant compared to Mr Biden's success among young voters in the 2020 presidential election, when he won over voters ages 18 to 29 by more than 20 points, according to the national exit poll.
Another NBC News poll in September found 59% of Americans had major concerns about Mr Biden having the necessary mental and physical health to be president for a second term.